Why is Now the Time?
This documentary film (a sequel to The Healthcare Movie) shows what people are doing now to make healthcare equity a reality in the USA.
While the Affordable Care Act (Obamacare) has helped some people, many of us are feeling the pinch of rising costs and narrowing networks. It has become apparent that insurance-based healthcare is not effective for keeping costs down and giving everyone access to needed medical care. We've now seen enough to know that many aspects of healthcare access and coverage still remain unsolved. There is a better way. People need to know that the tide is already turning, the tipping point is near.  And they need to know that change is happening because of them.
Our Story and Why This is Important

Terry Sterrenberg & Laurie Simons:  We have been married for over 30 years, and both of us are licensed counselors.  During the last decade, we became particularly passionate about filmmaking.  In 2011 we released a self-funded documentary film called "The Healthcare Movie", narrated by Kiefer Sutherland.  In the making of the Healthcare Movie, we learned how two neighboring countries (Canada and the USA) ended up taking such drastically different paths to providing healthcare for their people.  Much to our surprise the movie was adopted by healthcare advocates all over the United States, and has led us on tours around the country.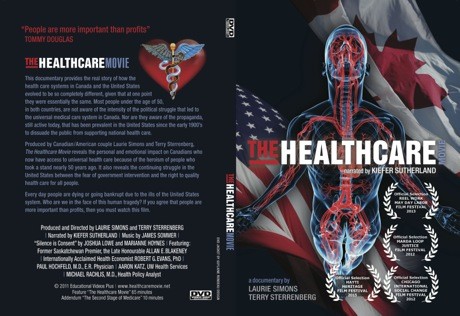 Here is an example of what people have said about The Healthcare Movie:
"I want you to know how useful our members have found your film. Several have shown it more than once to local audiences as a way of getting a conversation started. There have been many films on health care reform over the years, including the excellent film Sicko, but only the HealthCare Movie seems to have any staying power. "
Dr. Ida Hellander, PNHP
Making a Sequel
Many folks have asked us if we plan to make a sequel to The Healthcare Movie now that Obamacare has been implemented. In the meantime, other related films have emerged, like Escape Fire, Waiting Room, and most recently Fix It: Healthcare at the Tipping Point. These films are adding to public awareness of the issues impacting healthcare in America.  We began to wonder what kind of new film we could make that will contribute to forwarding the movement.
After giving this idea a lot of thought, we began to recognize the need for a film that explores what is already happening at the national level and in states around the country to finally bring about healthcare equity for all people in the United States.
Invitation
To make this new movie, we need help to cover costs of production. Now's The Time: Beyond Obamacare will show that publicly-funded universal healthcare in the U.S has been a hard-fought fight, and is now more possible than ever before.  Please join with us to bring the message of healthcare equity to the American people.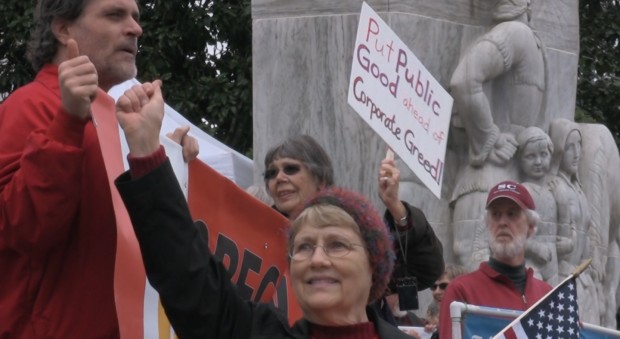 What We Need
We realize that where and how to give money is a difficult decision for many people. We all have to decide our priorities for our giving. Think about the outreach that a movie can offer.  The Healthcare Movie reached thousands of people and changed people's minds all across the US about the Canadian healthcare system and the idea of publicly funded universal health care.
Making a fully-funded broadcast-quality documentary film provides major advantages to forward the movement towards universal healthcare.  Your contribution, big or small will help us pay for our film crew, animator, music composer, graphic artwork, editor, archival video footage, music rights, sound mixing, and color correction.  We thank you for being a part of this important work to forward healthcare equity for everyone in the USA. With full funding, the final product will reflect the high quality needed for broadcast and theater distribution.
There is a saying in the film production industry that a project can be made good and cheap but not fast; good and fast but not cheap; or fast and cheap but not good!  The timeline needed for this film to make the biggest difference is for it to be released before the 2016 election – that time is approaching very fast!
Film production has many hidden costs and is quite expensive. Funds raised in this campaign will be used to pay for film crews, interviewers and their travel expenses, plus narrators, researchers and editors, as well as recording and editing equipment and software, graphic artwork, animations, rights to stock images and archival video footage, music composition, music rights, sound mixing, and color correction.
We have chosen the flexible funding model so that any and all funds we raise through this campaign will be used to improve the production value and distribution of this new documentary. The film will be made with whatever money we raise.
One of our goals in this campaign is to be able to offer free streaming of the film for wide distribution.  Additional funding for promotion and distribution will be needed for Blu-Ray and DVD duplication, packaging, postage, and posters.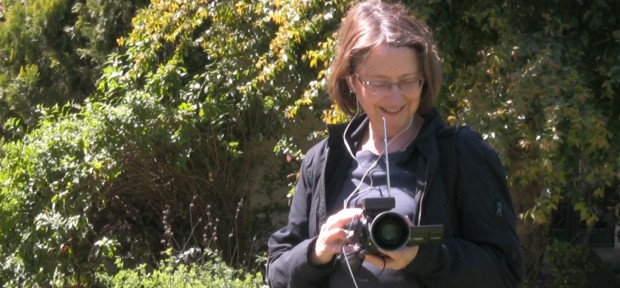 The Impact: What you Get
The election is coming up in 2016.  We think people need to  know what has been going on behind the scenes by advocates who are committed to making sure everybody has equal access to medical care when they need it.  There are things happening at the federal level and in many states that people are not hearing about in the media. Now's the Time: Beyond Obamacare will lift the fog of resignation and inspire its viewers to show up and step into action.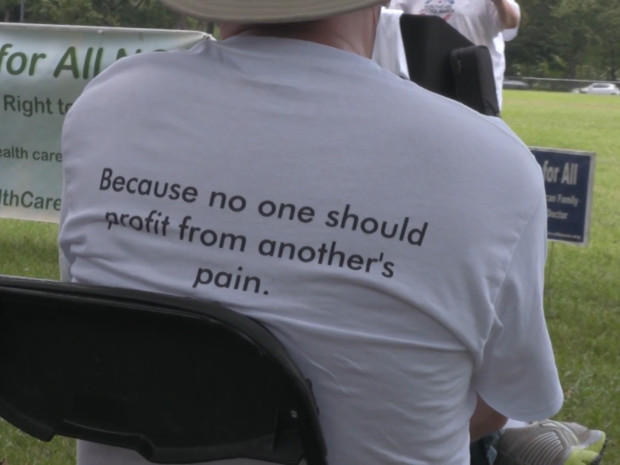 "Will I succeed? I can't guarantee you that.  But I can tell you that from a human point of view it's better to show up than to give up."
Bernie Sanders
______________________________________________________________________
Other Ways You Can Help
Get the word out about this campaign by emailing your friends and family
 Post about it on Facebook, Twitter, Instagram
Send this campaign to people on your mailing list or mention it in your newsletter
Talk to us about sending video footage of actions in your region
Offer us air miles for travel
Offer us solidarity housing for when we visit to film in your region
Let us know about contacts – people you think should be in the movie
Offer to be a liaison between your state and filmmakers
Offer to be contact person in your state to provide us with input about your state's activities
Be a point person to help promote the Now's the Time campaign in your state
Participate in periodic conference calls with the filmmakers
Set up screenings in your community as soon as the movie is released